Rooms & Villas | GMV Resort Sidemen
At GMV, we offer a variety of villas in different price ranges. Whether you're travelling on a budget or have a little more money to spend, we have the perfect accommodation for you. Are mountain views a must or do you prefer a more economical option? Read the descriptions below and take your pick from our range of villas and rooms! All rooms feature an en-suite bathroom and a private veranda, and a delicious breakfast is included in the room price, too! If you'd like to book a Deluxe or Standard Family Villa or two villas close together, please contact us at reservations@greatmountainbali.com. We will then establish which villas are best suited for your needs and will take care of the booking process on your behalf.
Not sure which villa to choose? Contact us at reservations@greatmountainbali.com (general enquiries) or Clare at clare@greatmountainbali.com (tailor-made packages) and we'll be happy to assist you.
East Bali's Best-Kept Secret
Melati Villa (Deluxe Plus)
Built in 2022, this brand-new, luxury bamboo villa offers phenomenal views of Mt Agung from the privacy of your bedroom or balcony. Melati Villa accommodates 2-4 guests and features a beautiful master bedroom en-suite with an adjoining smaller second bedroom. Its spacious veranda invites guests to relax in the rocking chair or hammock, while taking in the surrounding vistas. Guests love the unique design of this villa, it's nature-inspired bathroom and, of course, the breath-taking views of the Great Mountain.
Open Bathroom Villa Melati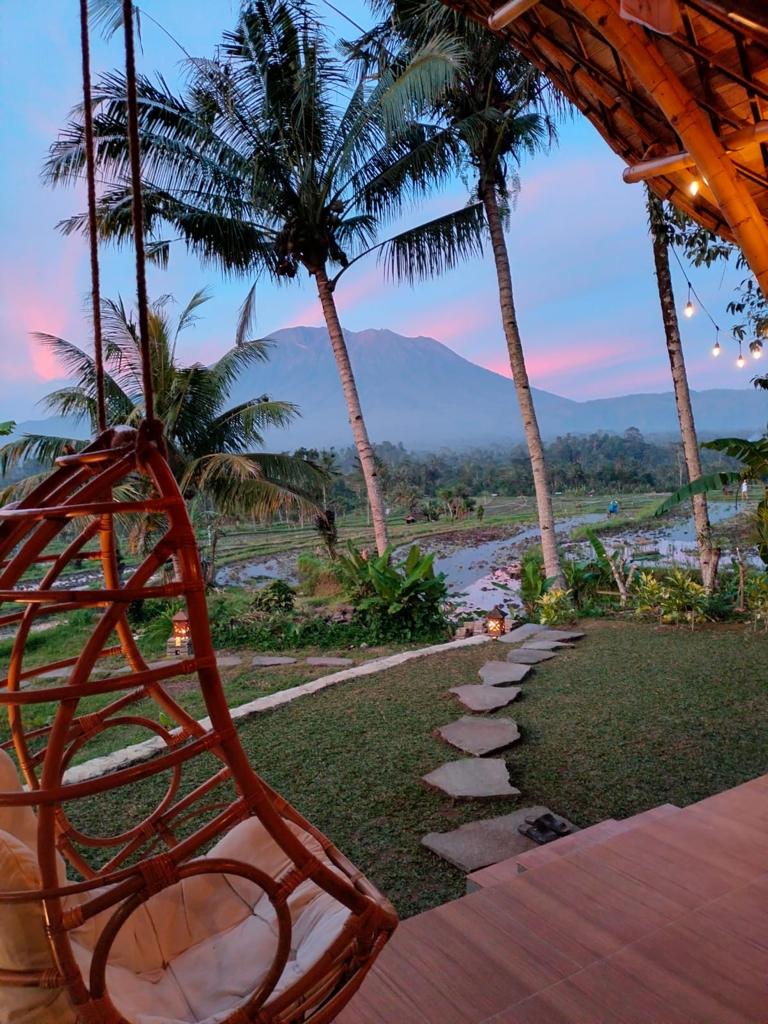 Rena Rachmadani
2023-01-31
Such a nice place, the owner the staff are very lovely, i stayed in melati bamboo room and it was one of the best place i've ever known. The view the details of the room, the shower room are incredible
Raquel Bernabé
2023-01-30
Un lugar increíble. El hotel merece la pena en todos los sentidos. Las villas son grandes y cómodas, en nuestro caso con un baño exterior que te hacía sentirte en medio de la jungla mientras tomabas una ducha. Cuentan con varias actividades extra que puedes contratar para hacer tu estancia aún más completa. Nosotras visitamos varios templos, hicimos snorkel, rutas por la jungla... La comida es genial, con variedad suficiente y a buenos precios. Las vistas y el paisaje son increíbles, pero sin duda lo mejor de todo son las personas que allí trabajan...Gracias Iluh, Nyoman y toda la familia, por hacernos sentir tan como en casa. Repetiríamos mil veces, GRACIAS!!
This place was the highlight of our stay in Bali. Breathtaking views, amazing food (that we still miss 6 months after the trip) and, most importantly, kind hearted people that made it feel like home. We were there for 7 nights, thought we will be bored by day 4 but there are so many activities and so much peace around that it was the perfect amount of time. Snorkeling and massages were our favorites. A must!!
Wir waren nur kurz dort. Die Zimmer sind ansprechend und sauber. Die Bungalows sind sehr schön und der Ausblick auf den Agung einmalig. Die Preise sind niedrig und das Essen gut. Allein der Ausblick ist sein Geld wert.
Super séjour, endroit magnifique au calme, propre et surtout l'accueil attentionné. L'adresse à retenir et à diffuser sans restriction
Алексей Алексеев
2023-01-06
great place with tasty breakfast and good promenade!
Made Yudistira
2023-01-02
Tempatnya sangat asri dan indah, tenang karena jauh dari kota. Fasilitas lengkap. Ownernya ramah dan pengertian. Kondisi suhu tidak terlalu dingin jadi bisa berenang. Overall saya suka tempat ini
Had a great time staying here. Breathtaking view! The staff were really nice. Would definitely come back
Frangipani Villa (Deluxe)
Beautiful, two-storey villa boasting amazing and direct views of Mt Agung. Our Frangipani Family Villa comprises both the top and the ground-floor unit of Frangipani, which are connected by outside stairs. Frangipani Family Villa is perfect for a group of friends or families with slightly older children. The top floor features a double bed, while the downstairs unit has air-conditioning and two beds. Frangipani Family Villa (top and bottom unit) can accommodate up to 5 guests. Each room can also be booked independently, accommodating either 2 or 3 guests, depending on the unit.
Frangipani Villa Interior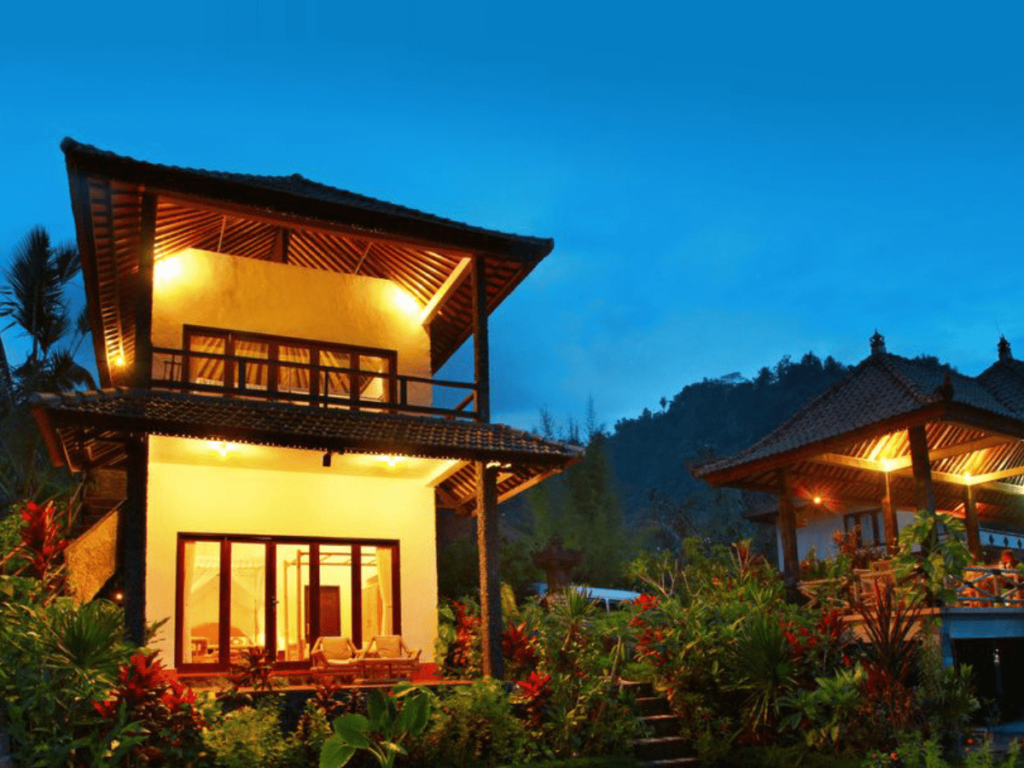 This cosy, single-storey villa is your villa of choice if you love privacy and enjoy waking up to views of our beautifully laid-out garden and restaurant. Our two Jasmine Villas each have their own private entrance and terrace and can accommodate either 2 or 3 guests, depending on the unit. Jasmine Villa is a favourite among couples, small families, and friends who are looking for spacious and light, mid-range accommodation.
If you're travelling on a budget but still want to experience the magic of Great Mountain Views, then our Lotus Villa is your best pick. Lotus is our most basic room, offering an excellent balance between value-for-money and comfort. Lotus Villa boasts views of our beautiful Balinese garden and restaurant, while those majestic mountain views are only a short stroll away. Our Lotus Family Villa comprises two units and can accommodate either 4 or 5 guests. Each Lotus room can also be booked separately, accommodating 2 or 3 people, depending on the unit. Parents and caretakers with younger children especially love our Lotus Family Villa, as its two connecting rooms (each with their own bathroom) enable them to get some well-deserved rest in the knowledge that their children are in close proximity.
All our room prices include 10% government tax, 5% service charge, and a delicious breakfast