Great Mountain Views Villa Resort
East Bali's Best-Kept Secret!
Welcome to Great Mountain Views
Great Mountain Views (GMV) is a family-run nature resort near Sidemen, Bali.
Established in 2008, our resort offers spectacular views of Mount Agung, Bali's most important mountain and home to the island's main temple complex, Besakih.
GMV is a unique resort and the perfect base for exploring Bali's beautiful natural environment and culture. The tranquillity and charm of GMV's location, immersed in the Balinese countryside, is the perfect accompaniment to the spectacular views of Mount Agung.
GMV is surrounded by traditional rice fields, yet our 11 villas – all with private verandas or balconies facing the mountain – offer all the comfort and facilities the modern holidaymaker expects.
Whether you're seeking peace and quiet or an adventure-packed holiday, GMV is your perfect base for exploring East Bali in all its natural beauty.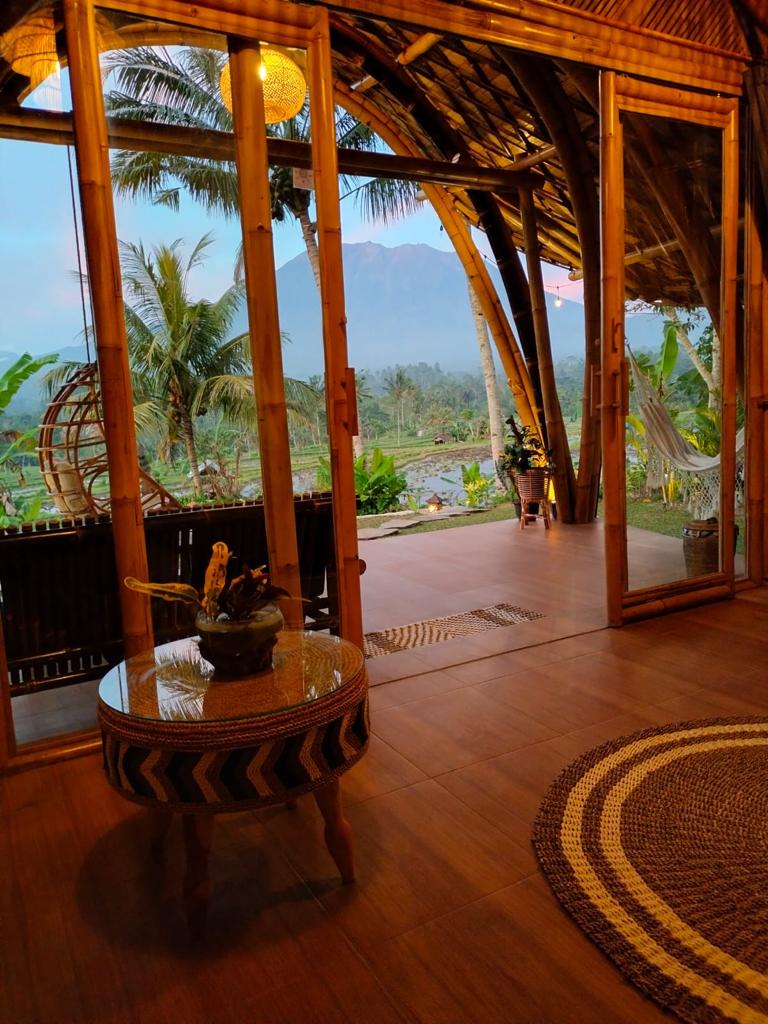 A big thank you to all our wonderful customers
Adventure791874
2022-11-05
Extraordinaire Tout commence avec ce paysage à couper le souffle, le dîner était excellent, tout est très propre , literie confortable et yulia est une hôtesse d'une gentillesse avec un sourire inoubliable . La piscine au milieu des rizières était aussi un moment magique...j'ai adoré TOUT
ConquerorsOfSummits
2022-10-05
The hotel, which is tastefully made If this place were a dish, I would describe it as a "delicious" one. Really, absolutely everything here has made tastefully, starting from the choice of location ending with dishes in the restaurant (we've had a soft spot for local Soto Ayam, in particular), and an incredible hospitality from the staff and owners's side had become the cherry on the cake. And despite we had hardly seen a majestic Mt.Agung in all its glory during our two-days stay, we were really enjoying the time we spent here, at this fantastic place.
Sideman's amazing views This was a truly wonderful overnight stay. The view was incredible. The staff were so helpful and friendly. The food was great and reasonably priced for Bali. We could onky hear sounds of nature. The pool was in good condition and considering that Bali has been virtually closed off, the rooms were in good condition. The hot water was a bit old and limited but it worked. We will stay here for longer on our next visit as it a wonderful discovery.
Nice resort with great view! Room is big and spacious, have a spacious outdoor bathroom. The view from the resort is super!! With the paddy field and mount Agung view. Staff was welcoming and very helpful. There is no air con in the room but it's ok due to cold weather in that area. Overall, good experience staying here!
Mountain Utopia Unreal location with a lovely view of Mount Agung. My wife and I stayed here as a staging area for climbing the mountain. Our experience was delightful. The entire staff treated us like family and our room was beautiful. The room had an outdoor shower and bathroom that was unique and wonderful (hot shower felt good after trekking in the rain). This is a must stay!!
Great views of mount agung I stayed 2 nights in a 2 bed villa with my family. The villa was nice and clean. You have to wake up early to see the mount which we enjoyed whilst having our breakfast. The village people are nice and friendly. This is a quite place to relax and unwind. Food selection could've been better but for 2 nights it was fine. The staff were always helpful.
stephtravelwriter
2020-02-02
Stunning Mountain Views A beautiful spot to stay and connect with nature. Discovering Bali is all about staying in the small hamlets and this little village of Duda is a beauty. Make sure you get up at 6:00 am for the most stunning sunrise ever. The organic garden serves the needs of the restaurant - such beautiful food! The staff are so kind and we called beforehand and they let us bring our little dog. She loved it and we love to take her away. Ask about the waterfall 30 mins away. You can really fall in love with Bali here. Make sure you have 1 or 2 nights or longer- take a walk through the friendly local village too. Hello, this is the real Bali. Only 1 hr from Ubud (or 45 mins early morning). Easy to get there by self-drive following waze or google maps.
Beautiful view of the mountain The best view of the mountain. Very quiet and peaceful, also romantic!!! Beautiful rice fields, very friendly staff!!!! Stunning sunrise 🌅 You can hear the prayers from local churches and mosque in the evening
Magnifique ! On a beau chercher, aucun point negstif, ce lieu est un veritable havre de paix: les bungalows sont biens espacés à l'ombre de ce magnifique jardin, la vue est magnifique à toute heure, la piscine est très agréable, le restaurant confortable et la nourriture excellente. Tous les employés sont adorables, prévenants et discrets, les salles de bain à la Bali aises vastes et pratiques...la température est un peu moins chaude que dans le reste de l'île, et même un peu fraîche la nui ce qui est très agréable. Il y a de très jolies balades à faire dans les environs et le temple de Besakih n'est pas loin. Il y a possibilité d'avoir des bons massages sur place sur demande.Bref, un petit paradis au milieu des rizières.
SpatzFrankfurt
2019-11-03
eine kleine Oase Eine kleine familiäre Anlage mit schönem gepflegten Garten und kleinem Pool. Die Lage ist spektakulär: über Reisfelder und Palmen hat man einen tollen Blick auf Mount Agung. Die Villen und einstöckigen Gebäude sind einfach und landestypisch eingerichtet, teilweise mit outdoor-Bad. Das Restaurant ist gut, der Service sehr freundlich. Das Hotel bietet ein großes Angebot für verschiedene Aktivitäten, aber auch für ein paar entspannte Tage ist das Hotel sehr gut geeignet.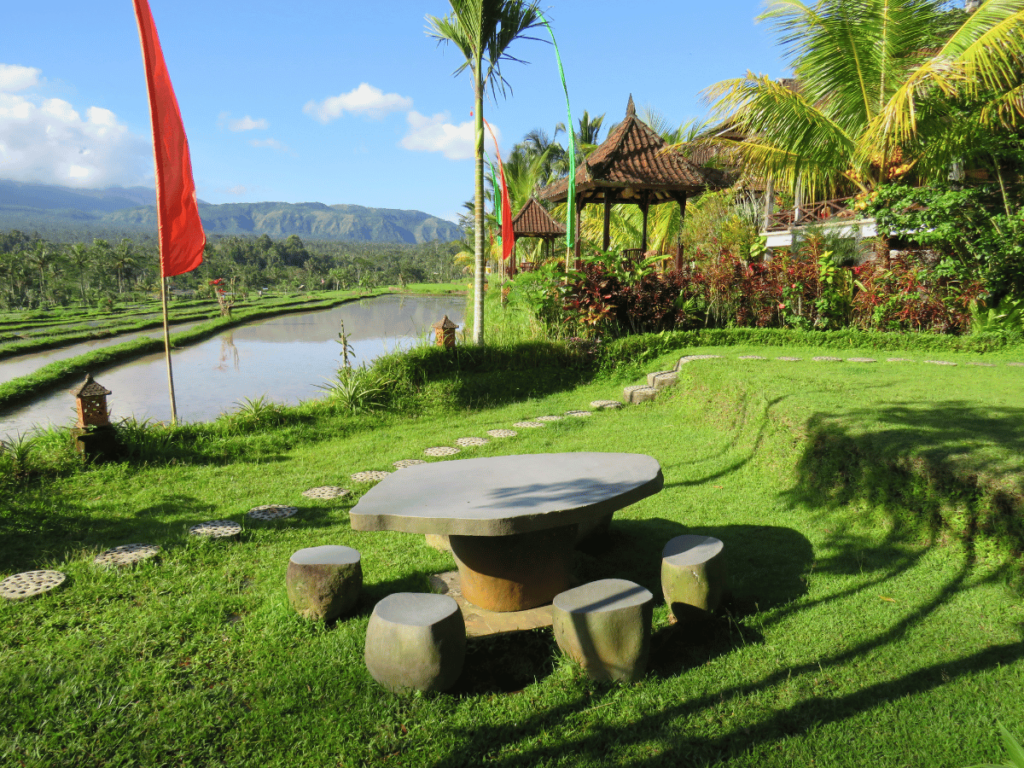 Great Mountain Views Villa Resort (GMV) features 11 rooms, all of them provided with en-suite bathrooms and private verandas facing the mountain. We offer four types of villas – Melati, Frangipani, Jasmine, and Lotus – and several room types (twin, double, triple, and family).
Our Melati and Frangipani Villas boast spectacular panoramic views of Mt Agung, while our Jasmine and Lotus Villas offer beautiful vistas of our luscious Balinese garden.
The resort also features an attractive, Balinese-style restaurant and two pagodas for private dining. Guests are welcome to enjoy their breakfast (included in the price of the room) on their own, private veranda, or in the restaurant.
Being at GMV means living close to nature. Our garden is laid out with many types of flowers and trees, and the resort borders on traditional rice fields and a fruit plantation.
We were very fortunate in that GMV was built on land bordering the rice fields. This enables us to enjoy the stunning views of these rice fields (which form part of a UNESCO world heritage site) without being detrimental to them. 
unique, family-run nature resort near Sidemen
charming villas with private verandas facing the mountain & rice fields
magnificent views of Mt Agung – possibly the best resort views (direct and unhindered) in the area of Sidemen
modest swimming pool & space for meditation and other forms of relaxation
range of activities (such as temple visits, mountain hikes, rice-field walks, waterfall tour, and massages) available
Balinese-style restaurant serving delicious food (Indonesian and European cuisine)
beautiful Balinese garden, featuring many different types of trees and flowers
fast internet throughout the resort (since 2022!)
pick-up and drop-off service from various locations (additional fee applies)
transport & car rental, incl. driver (additional fee applies)