Activities at Great Mountain Views Resort
Many guests use GMV as a base from which they enjoy other activities in the vicinity, such as tours and treks of Mt Agung, walks through the rice fields or alongside the river, hiking, rafting, snorkelling and diving, and much more.
Guests with an interest in Balinese culture may opt for a half-day or full-day tour, visiting for instance Besakih Temple, Tirtaganga Water Palace, or the nearby bambu forest and the unique Living Museum. Yet other guests prefer to do as little as possible – they enjoy the tranquility of the resort and soak up the views of Mt Agung for hours on end. Meanwhile, other guests
relax at the pool, practise meditation, or enjoy a plate of delicious food, cooked with produce from our organic garden.
Our wonderful Resort Manager, Nyoman, his wife, Chef Wayan, and all of our staff members are from the local area and will be happy to assist you during your visit. Nyoman can also help you with planning certain activities and arranging tours and
transport. However, to avoid disappointment, and especially in the high season, we recommend discussing and booking any potential activities at least one week prior to your visit.
Interested in a particular activity? Drop us a line at reservations@greatmountainbali.com
Getting married or looking for an original honeymoon destination?
We offer bespoke honeymoon packages and have welcomed a fair few newly-weds to GMV in the past. We have also organised a few exclusive and very private weddings, taking care of everything in some cases, while only providing accommodation for the bridal couple and their guests in other instances.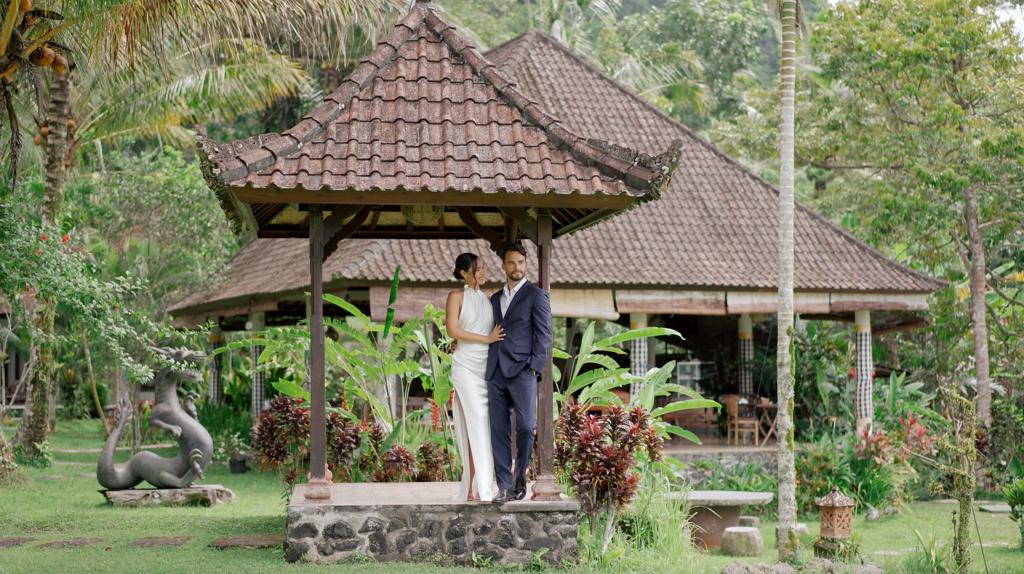 Enjoy the views of Mt Agung and the surrounding rice fields from the comfort of your terrace or get active and book one of our guided walks, a trip to a nearby waterfall or a fun rafting session on Telaga Waja River! We offer several activities that are specifically designed to connect with nature. Explore the nearby hills, rivers, and rice
fields with a local guide. Afterwards you're guaranteed to appreciate the beautiful countryside and natural landscape in which GMV is situated even more.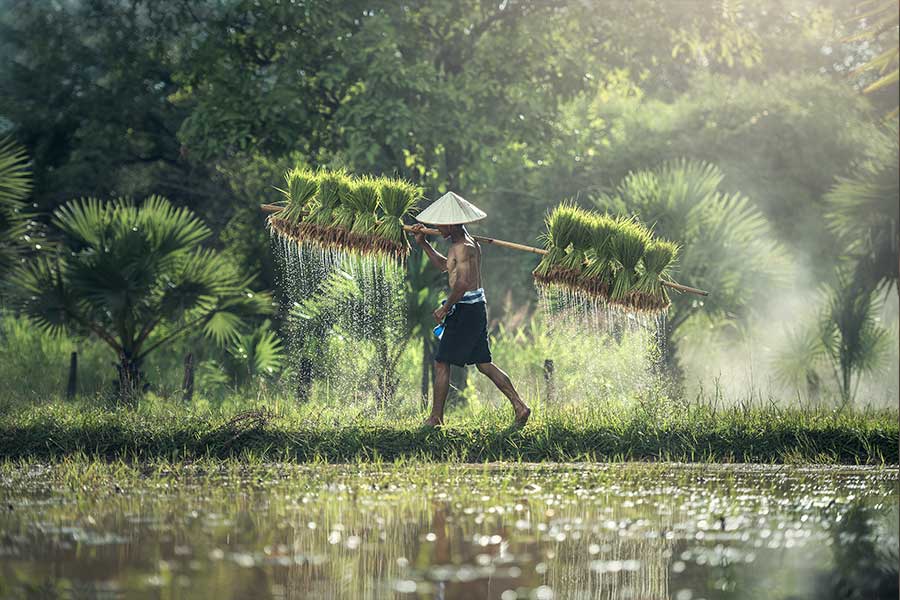 Majestic Mt Agung, which is often clearly visible from the resort, is a favourite climbing destination for some of our more adventurous guests. The challenging hike is rewarded with spectacular views from the top. Weather permitting, you will be able to enjoy stunning vistas of the ocean and of other mountains lingering in the distance. The hike to the summit is suitable only for fit and experienced climbers; it takes several hours and is led by one of our expert local guides. Fancy a lighter, family-friendly climb or hike? Then ask our resort manager Nyoman about our other walks and treks.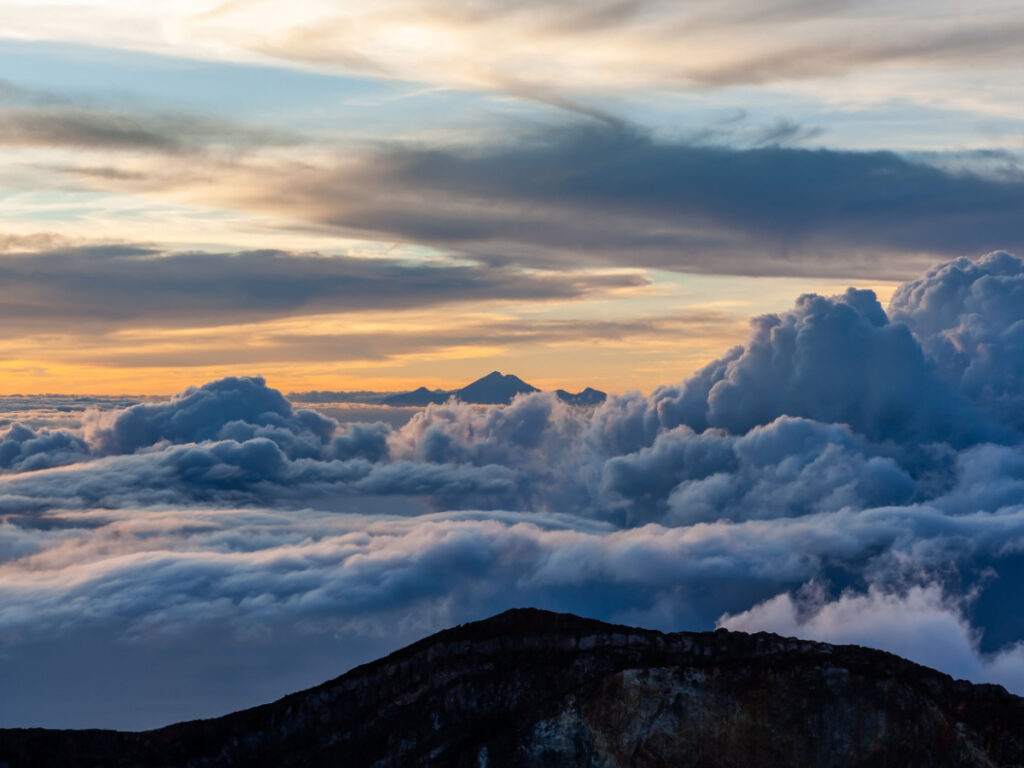 ...Or Soak Up Its Stunning Views from the Comfort of the Resort
Some of our guests simply enjoy the tranquility of the resort. They position themselves near our swimming pool or in the restaurant and soak up the views of Mt Agung for hours on end. On clear days, you'll find many guests watching the sun rise or set over Mt Agung – a spectacular sight that never grows old.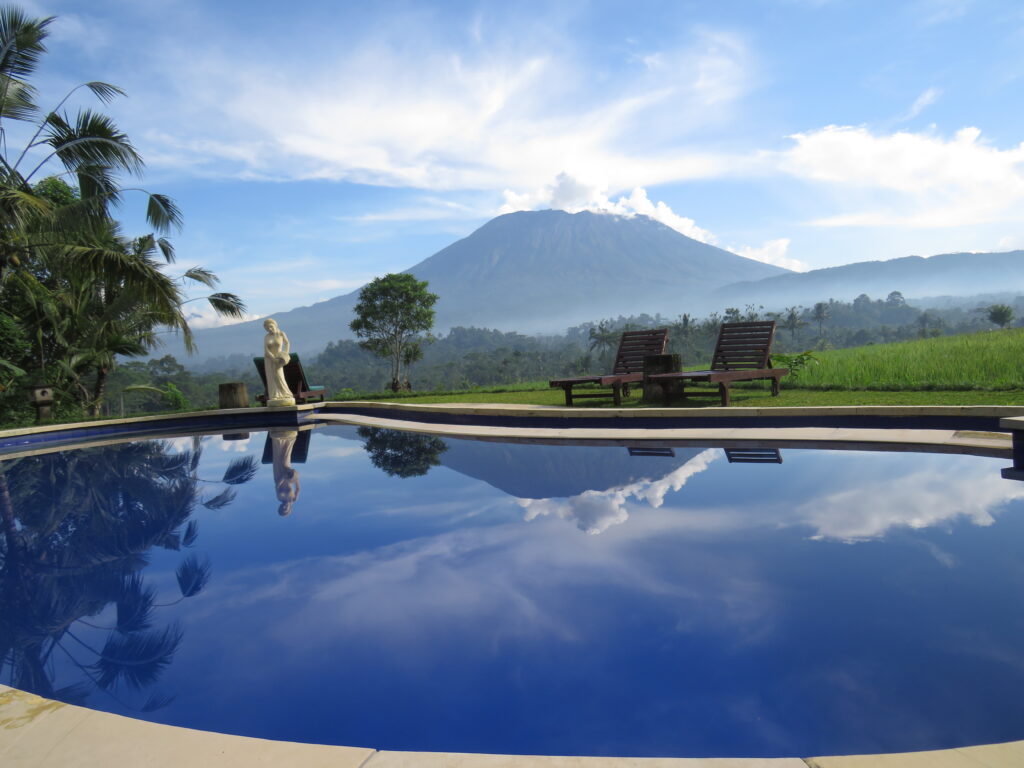 Spend a few hours walking through the beautiful rice fields right in front of our resort, with the spectacular view of Mount Agung as an unforgettable backdrop. A local guide will enhance your experience by pointing out the local flora and fauna while also explaining how the Balinese rice-farming  system works. This enjoyable activity can be arranged for individuals, couples, or groups and will be led by one of our experienced local guides.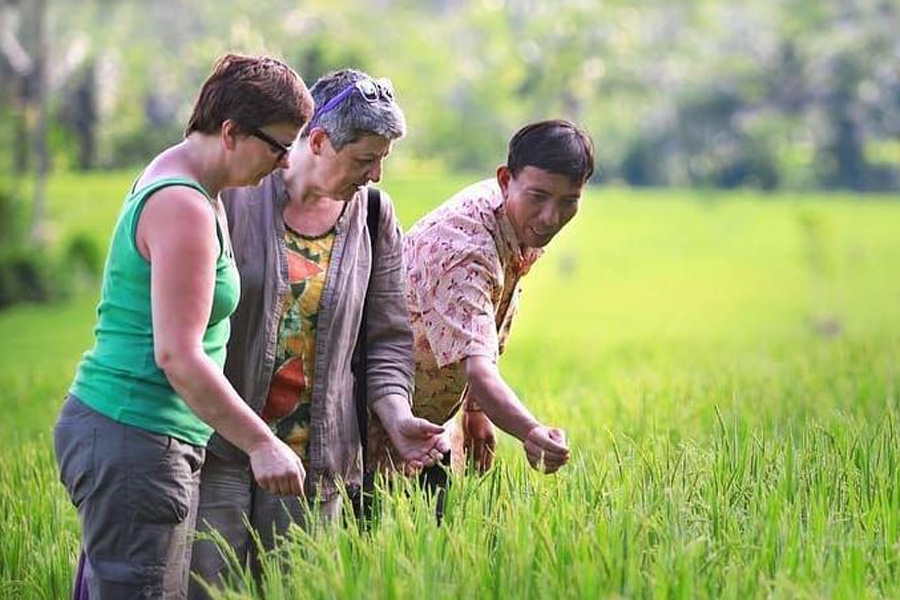 Over the years, Great Mountain Views has hosted many meditation and silent retreats. Looking for a place to unwind and relax? Then a visit to GMV should be at the top of your list! Tip: wake up early and enjoy the calm and quiet of the resort. Listen to the sounds of nature waking up – if you're lucky, you may enjoy some clear views of Mt Agung, all before you even sit down to have breakfast…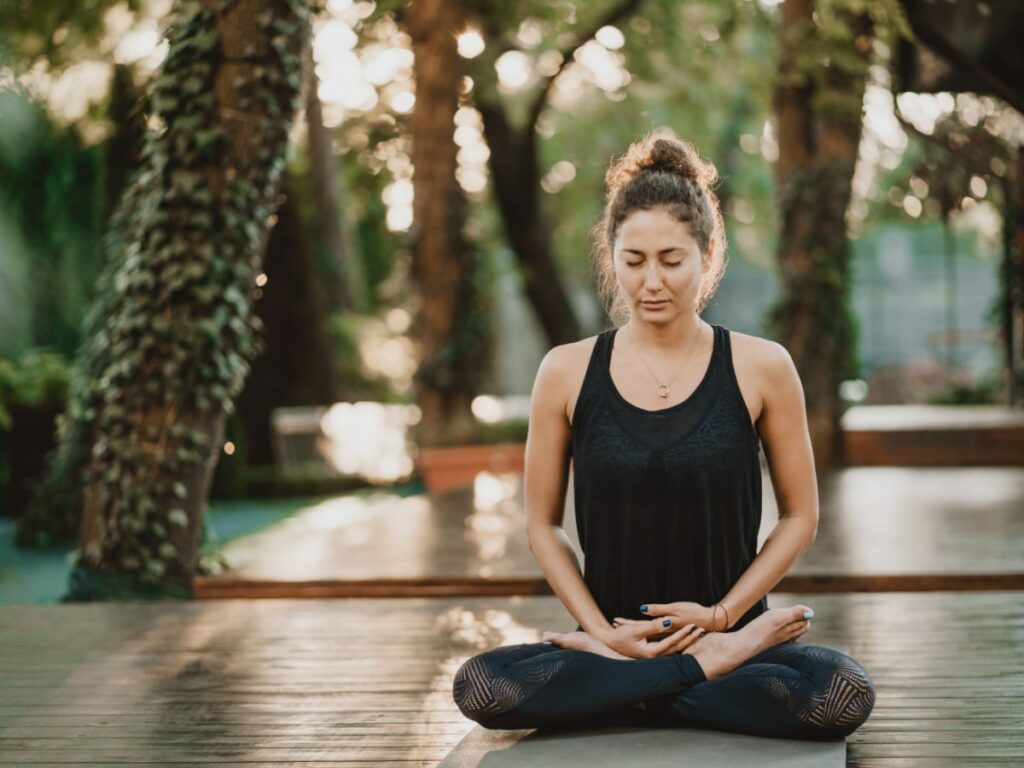 If you feel like a change of scenery, then why not spend a lazy afternoon on nearby Pantai Putih or Virgin Beach. This is a secluded, quiet beach with some modest but delicious eateries. Virgin Beach is only a short drive away from GMV and can be combined with other activities. One word of caution though: the waves can be high and the currents strong (especially during high tide), so please be careful when swimming.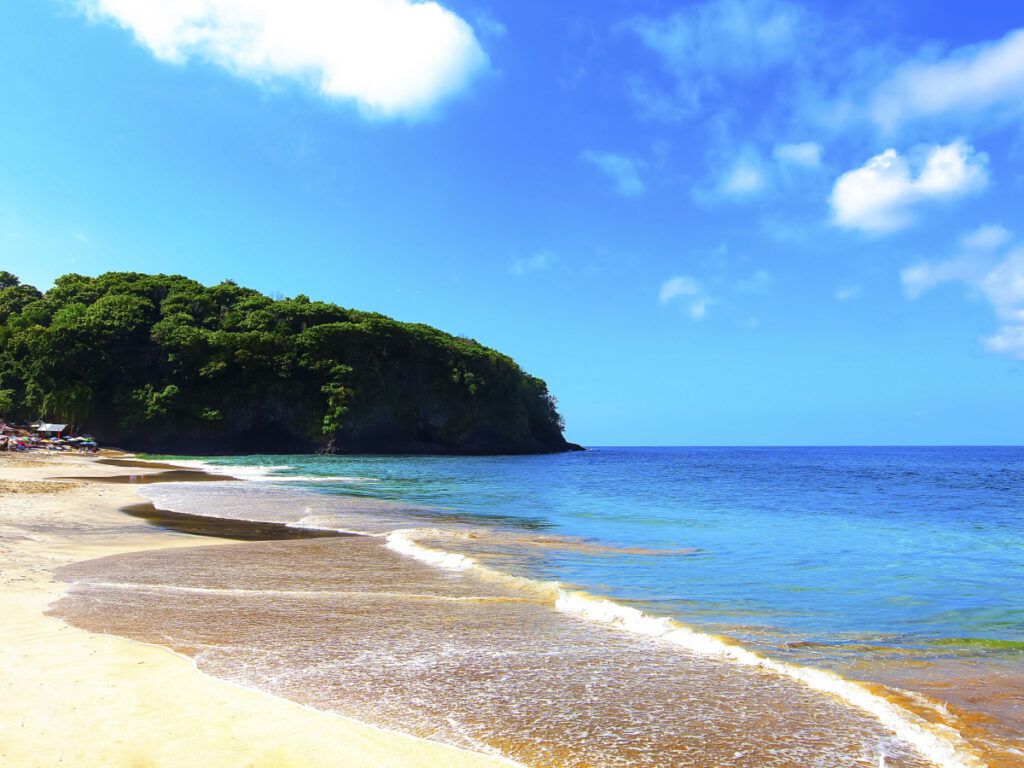 Balinese culture is heavily influenced by Hinduism, and the island showcases many Hindu temples and ceremonies. Also, wherever you go, you will be sure to encounter a large amount of daily offerings. Many Balinese create these and other offerings for their gods and ancestors as part of their worshipping rituals. If you are interested in local culture, there are many ways to explore and pursue this interest at GMV and in the nearby surroundings. For instance, we host hour-long workshops at the resort, in which we teach you how to make your own offering using young coconut leaves and a selection of flowers and other ingredients. We've also teamed up with nearby Samsara Living Museum and can offer many activities there.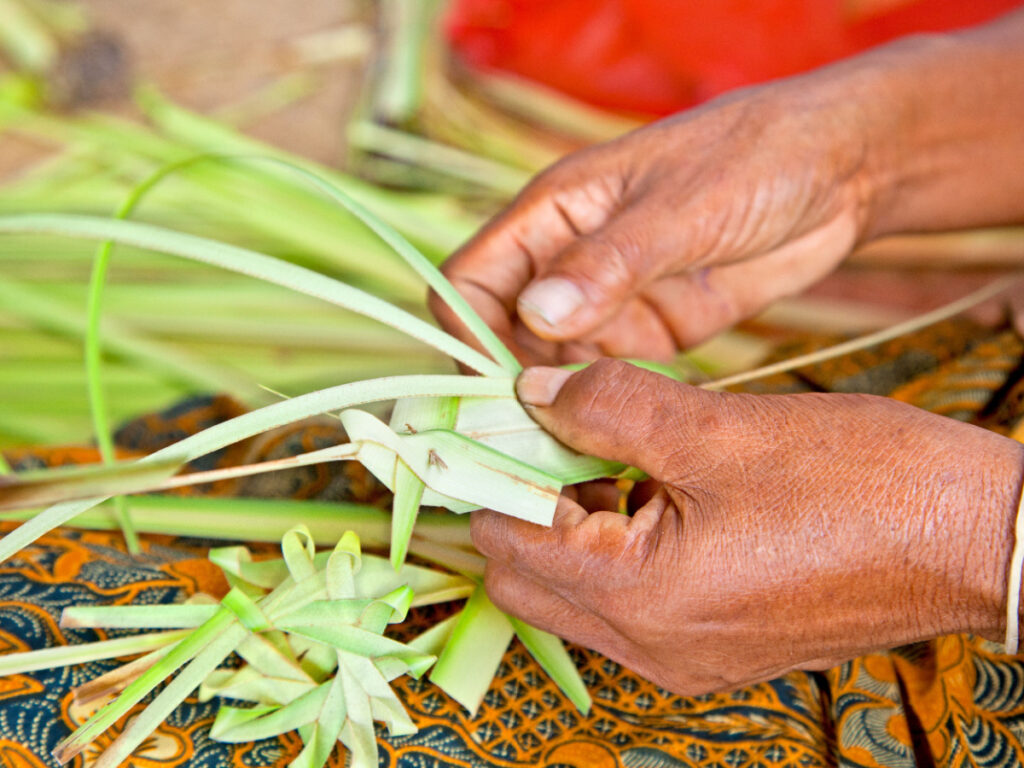 While the most popular tourist destinations in Bali are located in the southern part of the island, Bali has so many other beautiful, unique, and less crowded areas to explore. East Bali is well worth a visit for its natural beauty, rich cultural heritage, and off-the-beaten-path
attractions. From the stunning water palaces and temples in Karangasem to the scenic rice fields and the beaches in Candidasa and Amed to a broad selection of small, local museums and charming temples, East Bali offers a unique and authentic experience that is sure to leave a lasting impression on the visitor.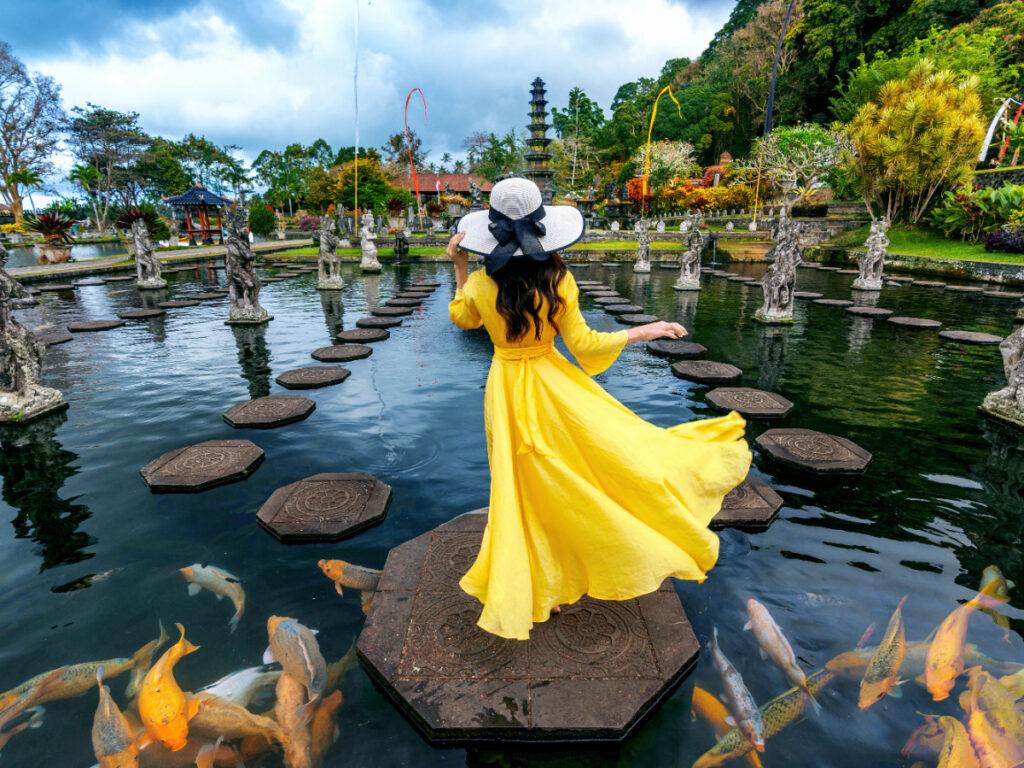 Balinese cuisine features vibrant and tasty food that reflects the island's unique culture and history. Dishes are characterized by the use of fresh ingredients such as vegetables, herbs, and spices and are often served with steamed or fried rice. In charge of the kitchen at GMV is Chef Wayan, an accomplished cook who masters a large number of local dishes and other culinary delights. Our menu includes old
favourites like fried rice, satay, and pancakes as well as some European dishes, soups, fish dishes, and a large selection of vegetarian and vegan options. If you like your spices, make sure to ask for Wayan's freshly made sambal matah (raw sambal) to add some extra oomph to your meal.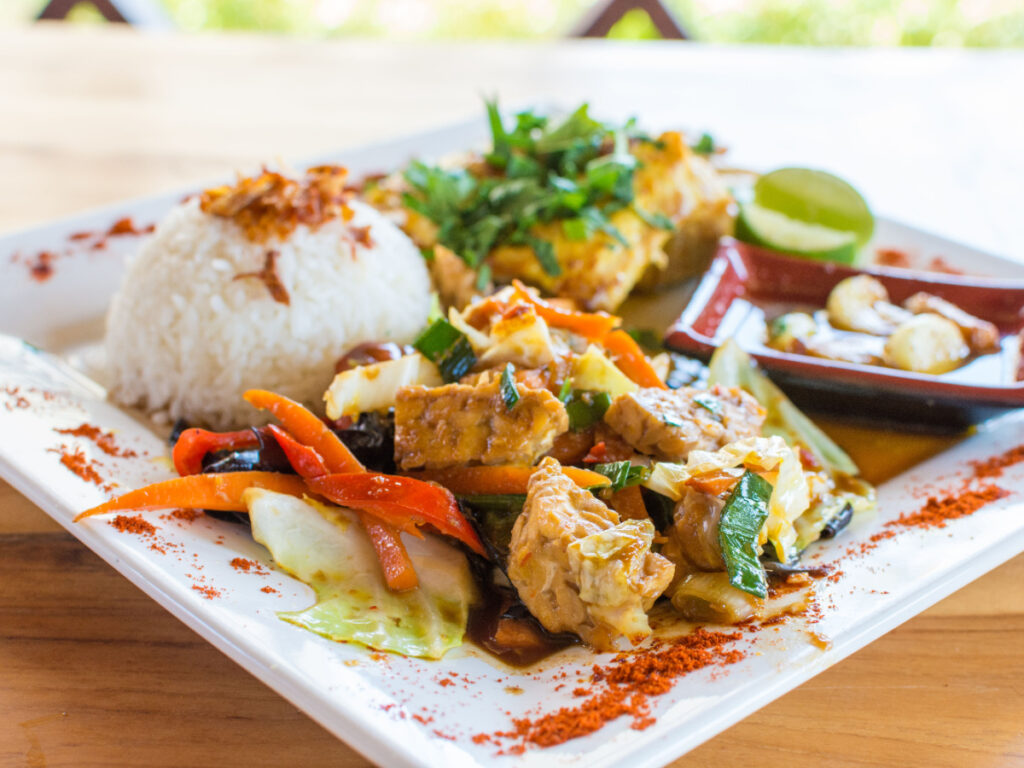 Whether you are feeling tired after a climb or hike, or simply want to add an element of self care, adding a massage to your holiday experience is always a good idea. GMV offers relaxing, traditional massages to help you fully relax. Our local masseuses specialize in one-hour-long Balinese massages that will relax your muscles and leave you feeling invigorated. Massages can take place either in our specially equipped spa room or in your villa.
Massages must be booked 48 hours in advance.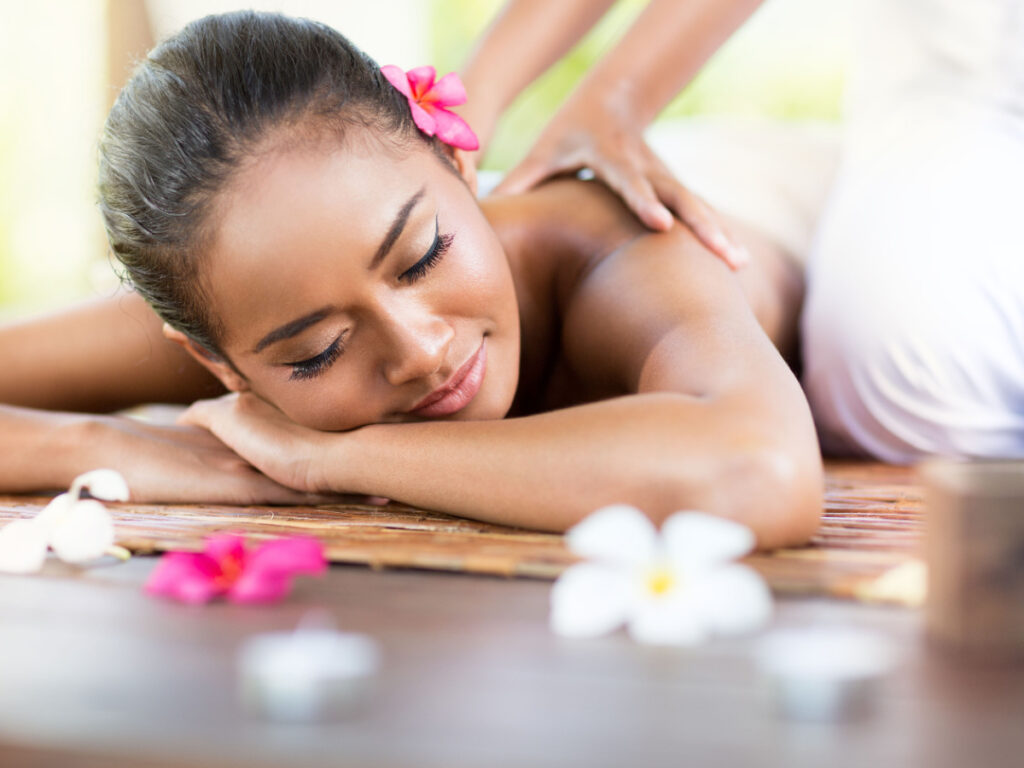 To avoid disappointment, please book your activity at least 48 hours in advance. Some activities are subject to availability.