GMV represents the coming together of a Balinese (Nyoman & Wayan) and an English–Dutch (Paul & Clare) couple, who share the same dream: to create a unique resort that offers its guests a genuine experience of Bali's natural beauty, exciting culture, and hospitality. In realizing this dream, we are assisted by our wonderful staff, most of whom have been with us for over a decade – or even, from the start!
We were the very first resort in the area and started from scratch. In fact, 'team GMV' has been operating the resort in Duda, Selat, Karangasem for nearly 15 (!) years now, including through the pandemic.
Our resort is modelled on our idea of the perfect holiday location. We aim for happy, satisfied customers, who will describe GMV as a 'hidden gem' and regard their visit to us as one of the highlights of their holiday.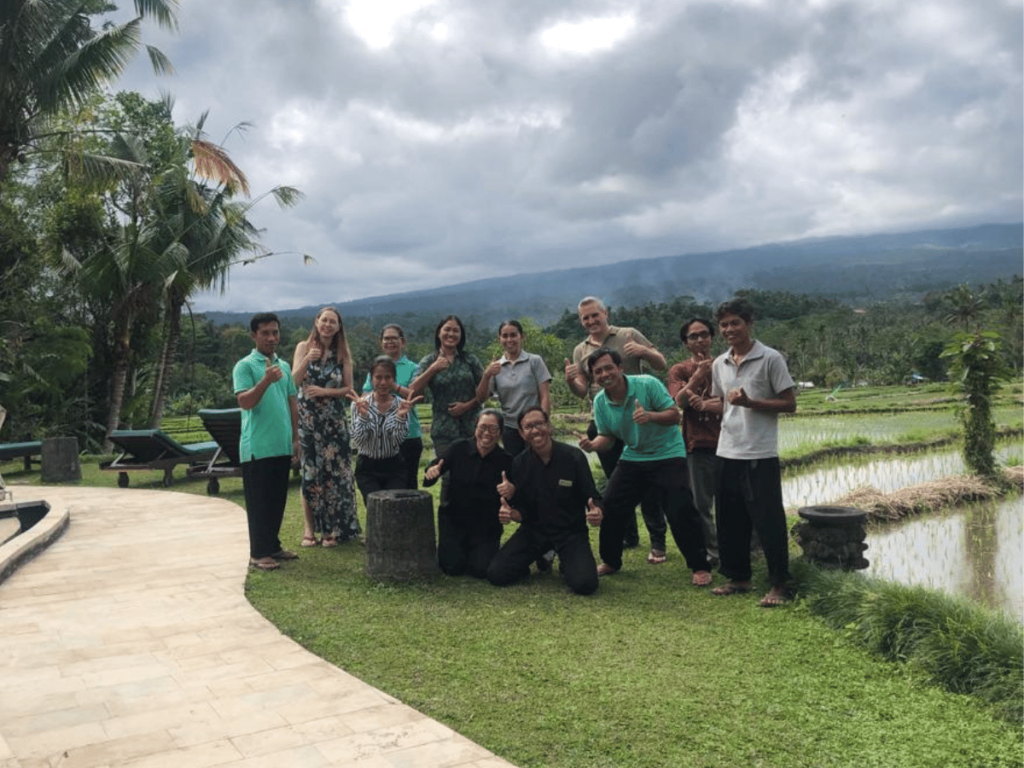 The resort was launched in 2008, when our first three villas were completed. In June 2010, we finished the next stage of our project by building another three villas as well as a small meditation hall/restaurant. Over the years, we have slowly but surely added more villas and facilities, such as a large, half-open-air restaurant and a modest swimming pool. 
We are constantly updating the resort in other ways too, for example by installing large water dispensers and, recently, by upgrading our internet facilities. 
We aim to keep developing our resort sustainably and with respect for the local culture, and for that reason decided to build the newest addition to the resort, Villa Melati, in bamboo. Villa Melati opened its doors at the start of 2023.
The design and management of the resort reflects our own ideas about what a visit to GMV should be all about: a beautiful location, close to nature; a choice of exciting and restful activities on your doorstep; unparalleled and genuine customer service; delicious, freshly prepared food (mainly local cuisine); and spectacular views of Mt Agung.
We see it as our mission to offer visitors a brilliant, tailor-made, and out-of-the-ordinary experience of Bali, with respect for local culture and the local population and an emphasis on East Bali's beautiful nature and culture. 
Judging from our guests' feedback, we have succeeded in our mission, and we are proud and grateful of our unique resort in Bali's mountainous interior.
But don't take our word for it – join us in Duda, Selat (in Karangasem Regency, near Sidemen) and discover the magic of GMV for yourself.
Team GMV look forward to welcoming you at the resort soon!